Long-haul journeys are an exciting adventure, especially the first one you undertake in your new electric car.
Whether you're off on holiday or to visit friends and family, road trips give you the perfect opportunity to test out your new electric car to its full potential.
Whilst there are unfortunately some things you can't plan for such as an unexpected change in the weather or congestion and traffic jams, there are plenty of aspects you can prepare for to ensure your long-haul journey goes smoothly.
Make sure you keep these smart tips in mind when planning your first long-haul car journey in your EV and we're confident it will go off without a hitch.
Before You Go
1. Download the Evaa App
If we do say so ourselves, the Evaa app is an EV road-trip essential. Download the app from your chosen app provider and you'll have access to intel on charge points right the way along your route.
Before you set off, sign-up to the app and plot your route allowing you to see where the EV charging stations are located along the way.
By selecting one of the charging points on our network you'll be able to schedule your charge and payment, making your charging stop as quick and stress-free as possible.
2. Plan Your Route
Whilst a little spontaneity never hurt anyone, EV drivers should probably edge on the side of caution when it comes to jumping in the car and driving off without a plan.
If you're going on a long car journey then you're going to need to stop for charge at least once on the way. Whilst the EV charging infrastructure across the country has improved dramatically over recent years, it's still best to do some research before you go.
Planning your route isn't just a good idea to accommodate charging points either.
Whilst today's electric vehicles work well on any kind of road, there's no denying that electric cars really come into their own on smaller, country roads and town centres as opposed to long stretches on the motorway or dual carriageway.
If you want to experience the very best your electric car has to offer, try to plan a route that will take in some quieter and smaller roads alongside the motorways. The slower speeds that these roads favour will also allow you to preserve your battery for even longer.
3. Prep Your Vehicle
Prepping your EV for a long journey shouldn't take you long but it's one of the most important parts of your pre-journey planning.
Key things to check before you set off include your tyre pressure, wiper fluid and brakes. The last thing you want is to encounter an issue half-way through your journey that could have been avoided.
Make sure you know exactly what kind of charger your car accepts, whilst most EV's can be charged at any rapid charging station, it's not always a one size fits all solution.
Of course you'll also need to check your battery %. Ideally you want to leave with a good battery level, preferably charging your car overnight the night before. The more battery you set off with, the longer the range you'll have at your disposal.
Aim for as close to 80% as possible, there's no need to worry about charging all the way to 100% if you don't have time.
On The Way
4. Be Conservative
It's easy when you're enjoying the perks of driving your electric vehicle long-haul to become a little too optimistic about how much range you have left.
Don't get tricked into thinking you can push on to the next charging point only to find your range is rapidly decreasingly.
The best thing to do is be conservative with how much range you have left. Once your car is running at anything below 40% start to think about finding a charging point soon. Whilst 40% will still go a long way, it's always better to be safe than sorry.
If this is your first time driving your EV long-haul or it's a brand new route then it's particularly important to be as conservative as possible when judging your range.
There are various things that can impact how quickly your car runs through the battery such as terrain, load in the car and weather, all of which can differ from journey to journey.
5. Drive Efficiently
Picture the scene, it's a chilly day when you set off so you turn on your heated seats to get toasty. You've connected your phone to the inbuilt charger so you can listen to your music as you drive and you've got your satellite navigation telling you where to go.
It sounds like the ideal road trip doesn't it? The problem is however that all of these non-essential features are going to drain your battery, and fast.
To get the most miles out of your EV it's a good idea to limit your use of additional features throughout your journey.
Driving at a slightly slower speed can also preserve battery life whilst utilising regenerative braking can help too.
6. Prepare For Busy Charge Points
Unlike filling up a petrol or diesel car, charging an electric vehicle usually takes a little longer than five minutes.
Whilst charging points are popping up everywhere from supermarket car parks to petrol station forecourts, there's often a limited amount of sockets available. Therefore you're going to have to be prepared to wait your turn.
If you arrive at a charge point and it's already full then there are various options available to you.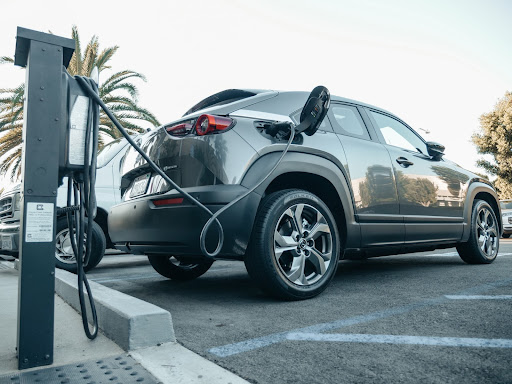 If you've left enough range you can consult the Evaa app and find another charging point nearby which may be available. This is why we always recommend never letting your battery get too close to empty!
If you don't fancy finding an alternative socket then you're just going to have to wait it out. Try to accommodate extra time when planning your journey for a wait at the charging station and pack some entertainment to keep you occupied whilst you wait.
Some charging points offer the ability to check ahead before you arrive to see if the sockets are in use and almost all charging points will have a screen detailing the battery % of the car it's charging, giving you an idea of how long the wait will be.
Whilst your EV is charging it's a good chance to regulate the temperature inside your car if you've been blasting the heating or air conditioning to help boost the range you'll have available when you set off again.
When You Arrive
7. Find Charging Access Near Your Destination
Once you've made it to your destination there's still a few things you need to think about when it comes to your EV. Namely how you're going to charge it.
If you're staying somewhere overnight then try to find a hotel that offers electric charging on site, they're becoming more common than you might think.
If your accommodation doesn't have a charging point then you can make use of the Evaa app to find a rapid charging point nearby.
Whilst rapid charging is handy for long journeys, it's always best to use it alongside slower, normal charging. Therefore if you're visiting friends or family ask if you can plug in at their home to give your car a boost. Just remember to offer to cover the electricity costs!
8. Think Carefully About Where You Park
Where you park your car once you've arrived at your destination can end up having a big impact on your return journey.
Ideally try to park your car off-road so that you can boost your battery from the parking spot. Many public car parks now offer electric charging points or dedicated spaces for EV's to charge up so be sure to look out for these.
EV drivers can also benefit from discounted parking charges in some car parks which can help you to keep the costs of your trip down.
The weather will also impact where you park your electric car. If it's a particularly hot day then try to park in the shade. If your battery gets too hot from sitting in direct sunlight then it will have to work harder, causing your range to decrease rapidly.
Similarly if there's a cold spell try to park indoors (e.g. in an enclosed garage or car park, not in your host's living room!) to help regulate your car's temperature.
Final Thoughts
Electric vehicles are the ideal way to travel from a to b in an eco-conscious world and with a little bit of forward planning, there's no reason why they can't be just as beneficial on long-haul journeys as their petrol counterparts.
Whilst many people fear that the range of an EV will let them down if they try to embark on a long journey, the reality is that stopping to charge along the way is not much different to pausing to fill up on gas.
By making use of software such as the Evaa app to plan your route and find charging points along the way, embarking on your first long-haul journey in an electric car doesn't need to be daunting.