What is workplace EV charging and how can you set up a charging scheme for your business? Read on to find out.
With more and more people making the switch to electric vehicles, drivers are looking for the easiest ways to boost their EV batteries. Being able to charge an electric car at work can be a great way of charging an EV with minimal disruption to everyday life.
Workplace charging schemes, therefore, are becoming increasingly popular with both employers and employees. In fact, as electric vehicles become more common, workers will be starting to look for employers who include EV charging as a staff benefit.
Installing charging points at the workplace can bring a host of perks for both employers and employees and this guide will explore everything there is to know about implementing a workplace charging scheme for your business.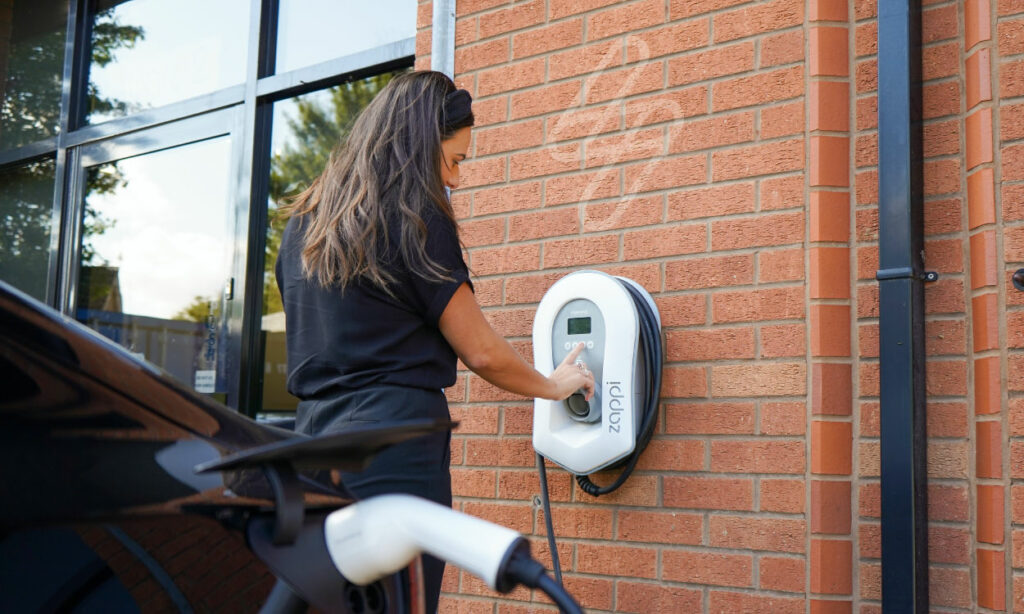 EV Charging for Employees
For employees who have an electric car, chances are they're always on the lookout for easy, fast and cheap ways to charge their cars. Offering them the opportunity to charge their cars during work hours is a staff perk many would appreciate.
Charging at Work
Being able to plug your car in whilst you're working makes charging your electric car simple and stress-free.
Chances are, employees park their cars up in the work car park all day anyway, so why not plug it in whilst it's sitting there? They can pull up in the morning, plug in, and depending on how much charge they need, they'll be good to go either by their lunch break or at the end of the day.
Not only is charging an EV at work a good use of time, it can also work out considerably cheaper for your staff too. In fact, most employers will offer subsidised or even free charging for employers who use their charge points during the working day.
This means they don't need to worry about finding a charge point on their way home and might even reduce the need for them to plug their car in overnight too!
It's a great way to show your employees you care not just about the environment, but about their time and finances too. 
EV Charging for Employers
Benefits of Workplace EV Charging Stations
Workplace EV charging points make total sense. The cars are going to be parked up for hours at a time anyway, so why not charge them up at the same time?
Workplace charging refers to not only employee cars that are parked up during working hours, but also business vehicles such as company cars or delivery vans that are parked up overnight/outside of office hours.
Installing workplace EV charging stations comes with a host of benefits including:
You can save money long-term on fuel costs for both your business fleet and employee mileage. 
A fleet of EV's can help to reduce your company's environmental impact and go toward your sustainability goals.
You can reduce the tax you pay on company cars.
You offer your employees the beneficial perk of being able to charge their EV's during office hours.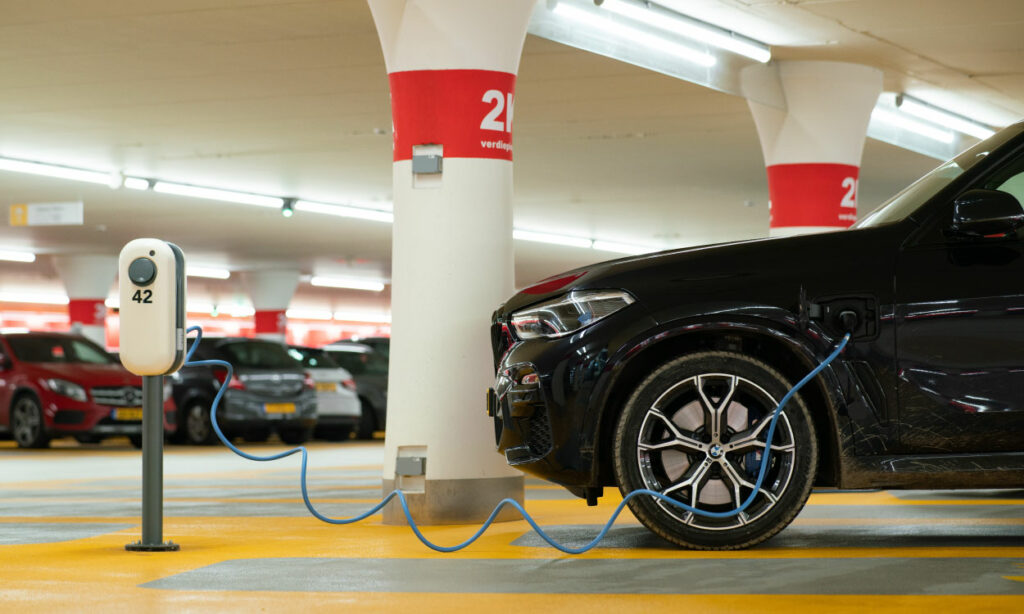 Costs of EV Charging Points
There are two key costs associated with workplace EV charging points. The first is the price of the charging unit and then you have the installation fee.
Typical 7kW double header units usually cost around £1500 with the Workplace Charging Scheme discount (more on that in a moment). Obviously the more power you want your charging point to have, the more expensive they get, with 22 kW units costing up to £5000.
If you're looking for a fully installed rapid charging unit then prices can rise to as much as £35,000.
Remember to ask for both the unit cost and the installation fee when getting quotes in order for you to budget accordingly. 
The Workplace Charging Scheme
If you're thinking about installing a charging point at your workplace then the Workplace Charging Scheme will likely be beneficial.
How Does the Workplace Charging Scheme Work?
The Workplace Charging Scheme (WCS) is a government initiative aimed at increasing the number of electric vehicles on the road.
The scheme reduces the cost of the purchase and installation of a workplace charging unit by 75% (capped at £350 per socket).
Each business can claim the discount on up to 40 sockets, so that could be 40 solo sockets or 20 double sockets, and is only applicable to new units that are purchased and installed after the voucher has been issued.
How the scheme works is simple. You simply apply online and if approved you'll receive a voucher that you can hand over to your unit supplier and installer. You'll need to choose a supplier who is approved by the Office for Zero Emissions Vehicles (OZEV), who will then use the voucher to claim the grant once installation is complete.
Once your voucher has been issued by OZEV you have 120 days to complete the process. 
How Do I Qualify for the Workplace Charging Scheme?
Almost every business, charity or public authority can sign up to the Workplace Charging Scheme but there are some conditions. They are:
You must have off-street parking that is used only by staff/to park your business fleet and this off-street parking must be a realistic distance from your main business location.
If you have a fleet of business vehicles you will need to show a commitment to switching these to electric vehicles if you haven't already done so.
Your charging unit must be installed by an OZEV-approved supplier.
Small accommodation providers and charitable organisations are also now able to benefit from the Workplace Charging Scheme, for whom there are no restrictions as to who can use their off-site parking.
Small accommodation providers that the scheme covers include places such as campsites, hotels and holiday parks.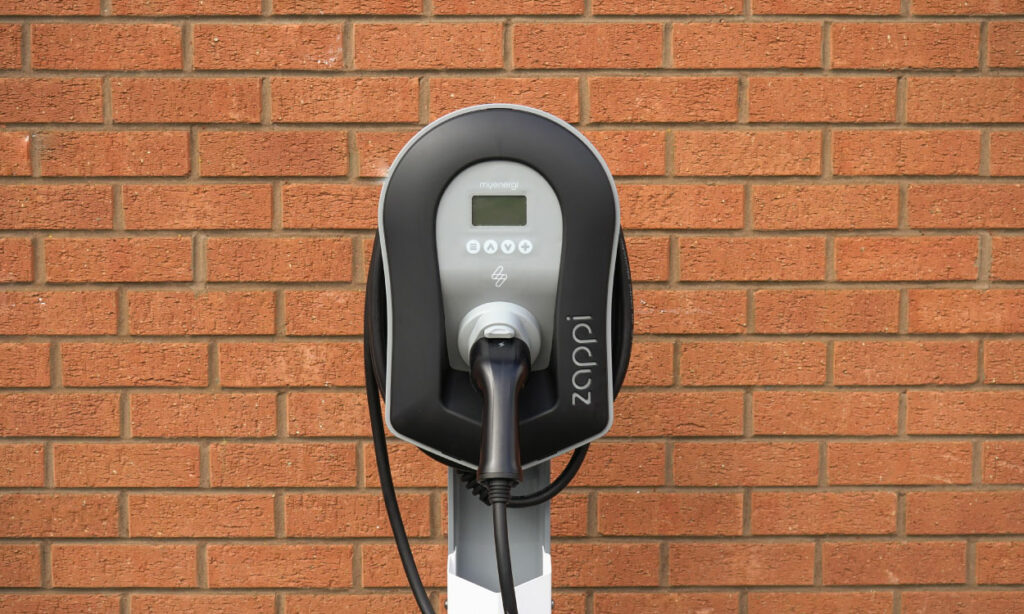 EV Infrastructure Grant for Staff and Fleets
It's not just the Workplace Charging Scheme that can be beneficial when it comes to EV charging for businesses.
The EV Infrastructure Grant is aimed at small businesses with less than 250 employees to assist with the installation of the relevant infrastructure for EV charge points both now and in the future.
The grant covers 75% of the infrastructure installation costs, capped at £15,000 and provides up to £500 for passive and £350 for active infrastructure per parking space.
Businesses who receive the grant must install at least five private, off-street parking spaces for staff with at least one charging point. The charging points installed must only be used for business EV charging, e.g. just for staff cars or business vehicles.
You can use both grants at the same time but can't use them for the same charging points.
EV Chargepoint Grant for Landlords
Landlords can also benefit from installing a charging point thanks to the EV Chargepoint Grant for Landlords.
The grant is available to owners of commercially-let properties and offers a discount of up to 75% off the cost of charger installation, up to £350 per EV charger.
In order to be eligible you must be able to prove that your property has private, off-street parking for staff and fleet vehicles. 
Final Thoughts
Government incentives such as the Workplace Charging Scheme have had a considerable impact on the number of electric vehicles on the road.
Once a baffling gimmick to many drivers, electric cars are turning into the vehicle of choice for those who want to cut costs and save the environment. With the UK government banning the sale of new petrol and diesel vehicles from 2030, we can expect to see the roads filling up fast with EV's.
Getting a workplace charging scheme in place now therefore is a savvy business step. Not only will it help your wider business sustainability goals it will go a long way to helping attract the best talent to your company. Having somewhere to charge their car may well be what sets you apart from their other job offers…
For more information on electric vehicle charge points and the Evaa approach to electric car charging, check out the rest of our blog posts.